VELIKY NOVGOROD - THE BIRTHPLACE OF RUSSIA

Departure from Saint Petersburg
Duration: full day (10 hours)


One of Russia's gems, Novgorod is a beautiful town of solid old churches, peaceful tree-lined streets and a magnificent Kremlin full of historic treasures. The first city in Russia, Veliky Novgorod dates back so far that historians can't be certain of its age. They do know that it is over 1,000 years old and was the birthplace of the modern state of Russia.
Go To Russia Travel invites you on an amazing tour of this old city often called Russian Florence. No other old Russian cities have managed to preserve so many ancient architectural monuments adorned with wall murals. Some of the items - including the famous birch bark scrolls - give insight into Novgorod's political history and its medieval lifestyle. Even though many relics survived centuries, many were also destroyed during World War II. There were over 2,500 stone buildings in Novgorod in the early 20th century, but only 40 were left after the Nazi invasion. The city, however, still managed to preserve a lot of beautiful monuments and buildings, and holds significantly more medieval history than any other Russian or Ukrainian city.
In the course of our day long tour you will see the major Novgorod's landmarks including Kremlin - the oldest citadel in Russia and one of the most distinct features of Veliky Novgorod. Originally used to mark the territory of the city, nowadays it holds the oldest palace in Russia, the Chamber of Facets, and the oldest Cathedral in Russia, the St. Sophia. The Cathedral of St. Sophia was built by Yaroslav the Wise's son more than a thousand years ago and is sometimes called the Cathedral of Holy Wisdom. It is the oldest surviving stone monument in Russia and was one of the first churches to have Russia's distinct architectural style, such as the well-known cupolas.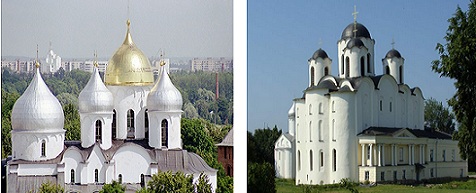 The Kremlin also houses many other tourist attractions, including the philharmonic concert hall, the public library, College of Music and Arts, the National Museum, as well as many fantastic shops, restaurants, and cafes. You will also find a large bronze monument in the square called the Millennium of Russia. Designed by Mikhail Mikeshin and built in 1862, this unique document in bronze immortalizes all those who greatly contributed to the development of the country: its culture, science, art, literacy, and literature. it was dedicated to the important leaders and innovators that aided Russia's historical and cultural development. Following the tour of Kremlin, you will also explore the territory of yet another architectural open-air museum: the Yaroslav's Court and ancient Trade-yard, displaying many still-standing monuments of the 12th - 16th centuries: churches of St. John-The Baptist, Paraskeva-Pyatnitsa, Myrrh-Bearing Women and others - all reminiscent of the busy trade life of Novgorod in days gone by.
| | | | | |
| --- | --- | --- | --- | --- |
| Tour/# of People | 1 | 2 | 3-5 | 6-9 |
| $Velikiy Novgorod city tour (including visit to Kremlin, St.Sophia's Cathedral, Yaroslav Court, Museum of wooden architecture) English/German | $496 | $325.5* | $251.5* | $191* |
| $Velikiy Novgorod city tour (including visit to Kremlin, St.Sophia's Cathedral, Yaroslav Court, Museum of wooden architecture), French/Spanish/Italian | $545 | $344.5* | $276* | $210* |
*Rates are per person.


PACKAGE INCLUDES: transportation from and to Saint Petersburg, all admission fees, tour guide, and lunch. Please contact us for rates if you want your tour to originate from a location other than St. Petersburg.
---
Click here to inquire about this tour