APARTMENTS IN KIEV, UKRAINE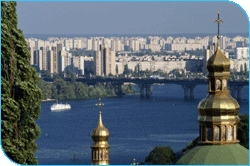 We offer international standard accommodations at prices about 40% lower than most Kiev hotels. We handpicked centrally located, secure, clean, comfortable, and completely furnished apartments for your next stay in Ukraine's capital city.
Apart from conventional hotel services you will also have all necessary household appliances at your disposal (including cable TV, VCR, stereo system, and much more). Cook in a fully equipped kitchen. Fax/answering machine and personal computer are available upon request as well.
Each individual apartment is decorated uniquely using different colors schemes and furnishing styles. Facilities also include 24 hours concierge, mini bars, and private phone lines. Brand-new air conditioning system will allow you to comfortably rest during the hot summer day. There is a marble bathroom in each apartment.
The single room Deluxe apartments have either a king-size bed and a spacious sofa or two double beds.
The two room apartments have one bedroom with a king-size bed, and one living room a with spacious sofa, which can be used as a bed.
The three room apartments have two bed rooms with king-size beds in each and one living room with a spacious sofa, which can also be used as a sleeping-bed.