ST PETERSBURG WALKING TOURS
The most effective and certainly the least expensive way to admire the magnificence of St Petersburg is by walking the streets of the city.
You will join a group of no more than 12 people for an exciting journey with our experienced and passionate English-speaking guides, who will tell you about history, modern St Petersburg, and show you places that are off the usual tourist itinerary. French-speaking and Arab-speaking guides are available for some tours upon request for groups of a minimum 5 people.
DOSTOEVSKY'S ST PETERSBURG
2 hours


For Fyodor Dostoevsky, the great Russian writer, St. Petersburg itself was one of the main characters of his novels. In the course of this tour we will visit the places associated with literary work and life of Fyodor Dostoevsky. We will take a walk through "Dostoevsky district", inhabited by the characters from his celebrated novel 'Crime and Punishment", and follow the murder route from Raskolnikov's house to the house of the Pawn Broker.
The walk includes a visit of Dostoyevsky's last place of residence, where he spent the two last years of his life, and to the site of the writer's mock execution at Semenovsky Square. The tour ends at the Alexander Nevsky Monastery graveyard at Dostoevsky's grave.
Rate: $30 per person with a maximum of 10 attendees
CHANNELS OF ST PETERSBURG
1.5 hours by boat


Permeated with hundreds of little and big channels, St Petersburg is rightly called "the Venice of the North". Channels and bridges define the landscape of the city and make it absolutely gorgeous during the summer White Nights. Go To Russia Travel offers unforgettable boat tours along the channels of St Petersburg.
During the four you will see:
Griboedov Canal - constructed in 1739 and reinforced in 1764-1790, the Canal stretches for 5 km and has 21 bridges
Kryukov Canal - constructed in 1719-20 and named after contractor Semen Kryokov, the canal separates New Holland Island from the mainland
Rivers Fontanka, Moika and Neva
Bronze Horseman, St Isaac's Cathedral, Mikhaylovsky Castle - just a few of the most prominent landmarks of Saint Petersburg
Rate: $49 per person with a maximum of 10 people per group.
ST PETERSBURG OF RASPUTIN - YUSUPOV PALACE
2 hours


This tour is closely intertwined with the palaces and legends of St Petersburg. We will visit Rasputin places in St Petersburg, including the famous Yusupov Palace where Rasputin was murdered by Felix Yusupov himself. The Palace is swarming with legends and myths about this legendary man. Yusupov Palace is a also wonderful example of Russian architecture.
Even in a city of glittering palaces, the sumptuous interiors of the Yusupov Palace cannot but ravish the visitors. A series of richly decorated rooms, each more spectacular than the other, culminate in a gilded jewel box of a theatre, where classical music, ballet and opera performances are still held.
Rate: $59 per person (including tour and admission) with a maximum of 12 attendees per group.
Note: at least 2 days advance booking is required due to Yusupov Palace requirements
MYSTICAL ST PETERSBURG
2-3 hours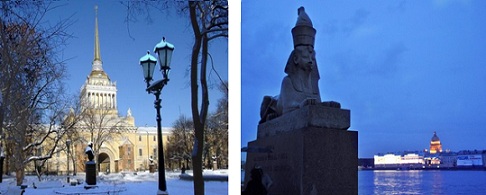 St Petersburg is a deeply mystical city, where legends and urban myths define the local culture. This walk will show you the mystical side of most St Petersburg attractions. In the course of this tour you will learn:
What urban legends were inspired by the Sphinx on the embankment
How many times you have to go around a certain tourist venue to attract good luck
Where in St Petersburg you can still see the shadow of deceased Tsar Paul II
Which places in St Petersburg were holy for pre-Christianity pagan Russian lands. These places are connected with many cruel legends
The legends of the Admiralty
The mystery behind Rasputin's death
Rate: $40 per person with a maximum of 12 attendees per group
HIDDEN TREASURES OF ST PETERSBURG
2 - 3 hours


This walking tour will take you along the less explored St Petersburg embankment of the Fontanka River, starting from its beginning in the Gulf of Finland and up until the Mikhaylovskiy Palace, one of the lesser-known jewels of the Russian architecture.
This route gives you a chance to get the full appreciation of St Petersburg's charm and enjoy a sunny day outdoors without interference of huge crowds during the summer season.
Rate: $39 per person with a maximum of 12 people per group
THE HERMITAGE MUSEUM
3-4 hours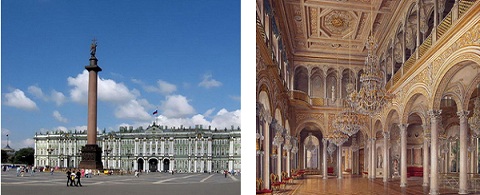 No matter how much we dislike standard tours, we have to admit that the Hermitage is worth a visit for anyone interested in art, sculpture, photography, or world history. The Hermitage is a must see for anyone visiting St Petersburg, whether this is your first or 10th time to the city. It is estimated that if you were to stand in front of each exhibition item for just 1 minute, it would take you 30 years to see the entire collection. For those who cannot spend 30 years at the Hermitage, Go To Russia Travel offers this introductory tour with major highlights of its fantastic art collection.
We offer private guided tour of the Hermitage led by Hermitage-licensed guide for groups of up to 7 people.
Rate: $59 (per person, including the Museum admission)
BACK IN THE USSR. SOVIET TIMES
2 - 3 hours


The tour takes you through the revolutionary days in the turn of the XX century and the Cold War period. We will visit the Political History Museum, climb on board of the legendary Aurora ship, and have a glimpse of daily life of Soviet people in times of Stalin, Khrushchev and Brezhnev.
You will see Lenin's Study, the meeting room for the Central Committee of Bolshevik Party and hear recordings of Soviet political leaders expressing their views on religion, art in Soviet society, on prisoners of GULAG and dissident movement in Soviet Russia.
You will also visit a typical kitchen in a Soviet "kommunalka". A unique Soviet invention, kommunlakas were large dormitory style apartments with strangers living together and sharing bathroom and kitchen. Kommunalkas had a special place in Soviet time folklore and were described in many movies and books. Nowadays, they are a dying breed as most of the residents are being moved to regular single-family apartments. We offer you to see some of the very last remaining kommunalkas in the course of this tour.
Rate: $30 per person (including museum admissions) with a maximum of 12 attendees in the group
SIEGE OF LENINGRAD. WORLD WAR II TIMES
2 hours


This tour focuses on the saddest part of the city's history and the most destructive siege in the history of human warfare - the siege of Leningrad. You will learn how the city's residents lived during those 900 harrowing days. More than one million citizens lost their lives to starvation, cold, shelling and air raids. During this tour you will visit the most important monuments devoted to the unprecedented heroic defense of Leningrad: Memorial Monument on Victory Square and the Museum of the Defense and Siege of Leningrad. Discover the stories behind the landmarks of Nevsky prospect, an area fully dedicated to these dramatic times. Learn about the resilience of locals faced with food rations, and the famous Leningrad symphony #7 written by Dmitri Shostakovich in the besieged city.
Rate: $28 per person with a maximum of 12 people per group.
HIDDEN TREASURES OF ST PETERSBURG
2 hours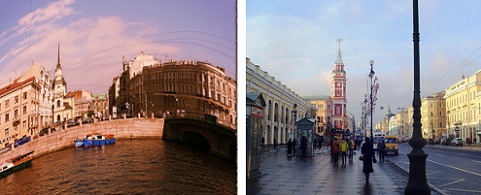 This is not just your regular tour of all main landmarks of Saint Petersburg, but a walk through places favored by the young locals - especially in the summer during the white nights when the city looks most romantic with its 19th-century parks and lovely ponds inhabited by elegant swans. Saint Petersburg is like a secret garden, leading you to courtyards, which at a first glance seem to be nothing special, and suddenly reveal some of the coolest city spots. Or, if you're brave enough to turn into courtyards looking like a dead end, you may find yourself on yet another beautiful street, which you may never have found otherwise! This tour will take you around the city's best kept secrets.
We will start in the city heart - at the underground station "Nevsky prospect", where you'll be gently reminded, that Saint Petersburg is the second capital of Russia. Then, through a cozy park that makes you feel like a character from some 19th-century novel, we will get to the magnificent Fontanka River, see all locals favorite "Chizhik-Pyzhik" (bet, you've never met him before), and come to the "Art Artery" of the city. Not only will you see young sculptors, artists and other talents on the every corner of these streets, you will also walk the same streets as Alexander Pushkin - one of the most famous Russian poets.
Rate: $29 per person with the maximum of 12 people attending.
WILD IS THE WIND
3 hours (biking tour), 20 km/ 12.4 miles long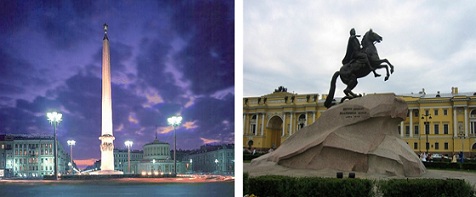 Do you want to see more and have wind in your hair?
Then this biking tour is definitely for you! Starting from the city heart at "Ploshad' Vosstaniya" underground station we'll pass through the city center. Often hidden from the eyes of tourists, the center represents the "informal" Saint Petersburg, or "Piter" as it is called by locals.
We will cross Fontanka River and its low dives (which may be an idea for things to do in the evening) and explore the city canals: Griboedov canal with its nice bridges, all of which have their personal history; Kryukov canal, which will bring us to the last summer's grand-opening - New Holland - a man-made island, which in the past served as a port, a jail, and recently was transformed to the most fashionable summer spot!
Following New Holland we will continue to the embankments to prove all the sayings about the "granite fetters" of the city. We will also learn the romantic story of the Decembrists and hear about historic events of 19th century on Senatskaya Square. Senatskaya Square is also a nice place for a picnic lunch. You can feel like a true local - lunching with the view of St Isaac's Cathedral or the Academy of Arts and St. Petersburg State University.
After that we'll (probably) pass crowds of tourists, waiting in 2-3 hour long lines to enter the Hermitage, and keep on enjoying our ride along the Neva River!
Rate: $41 per person (including bike rental), with a maximum of 10 attendees.
ST PETERSBURG CITY TOURS AND EXCURSIONS
| | | | | | | |
| --- | --- | --- | --- | --- | --- | --- |
| Excursion/# of traveles | 1 | 2 | 3 | 4 | 5-6 | 7-9 |
| City tour (3 hours) | $162 | $118 | $69 | $54 | $44 | $32 |
| City tour with Peter and Paul's Fortress (3.5) hours) | $194 | $108 | $87 | $69 | $62 | $55 |
| City tour with St. Isaac's Cathedral (3.5 hours) | $192 | $108 | $87 | $69 | $62 | $55 |
| City tour with Peter and Paul's Fortress, St. Isaac's Cathedral (4 hours) | $200 | $127 | $100 | $83 | $72 | $65 |
| St. Isaac's and Savior on the Spilled Blood (3 hours) | $180 | $119 | $98 | $83 | $74 | $68 |
| Alexander Nevski Lavra (2 hours) | $158 | $100 | $75 | $62 | $56 | $53 |
| Yusupov Palace with Rasputin (2 hours) | $217 | $127 | $93 | $89 | $68 | $63 |
| Russian Museum or Kunst Camera or Zoo Museum (3 hours) | $167 | $108 | $83 | $68 | $62 | $55 |
| Museum of Soviet and Russian Navy (3 hours) | $167 | $108 | $83 | $68 | $62 | $55 |
| Hermitage (3.5 hours) | $180 | $127 | $93 | $82 | $70 | $64 |
| Pavlovsk or Lomonosov or Gatchina (4 hours) | $206 | $132 | $102 | $84 | $72 | $68 |
| Tsarskoe Selo (Pushkin) (5 hours) | $231 | $138 | $110 | $90 | $82 | $72 |
| Pushkin and Pavlovsk (6 hours) | $262 | $169 | $133 | $113 | $100 | $94 |
| Petergoff - park only (5 hours) | $206 | $131 | $125 | $84 | $72 | $67 |
| Petergoff - park and Summer Palace (5 hours) | $256 | $203 | $166 | $112 | $80 | $75 |
| Rivers and canals boat tour (1 hours) | $288 | $169 | $155 | $94 | $78 | $64 |
| Petersburg by night (00:30-2:30) (2 hours) | $199 | $113 | $104 | $64 | $54 | $46 |
All rates are per person. All tours are privately guided. All rates are based on using a car for 1-2 guests or minivan for 3-4 guests, passenger van for 5-9 guests. All rates include entrance fees and services of highly qualified licensed Go To Russia Travel guide (main European languages available). Group rates are available, please contact Go To Russia Travel for more information.
---
Click here to inquire about this tour