MOSCOW WALKING TOURS
If you are on a budget and enjoy walking, these walking city tours are a perfect way to explore the Russian capital. You will join a group of no more than 12 people for exciting discoveries with our experienced and passionate English - speaking guides, who will tell you about history, modern Moscow and show you places that are off the usual tourist itinerary. French - speaking and Arab - speaking guides are available for some tours upon request for groups of a minimum 5 people.
CLASSICAL MOSCOW TOUR
(Duration - 3 hours)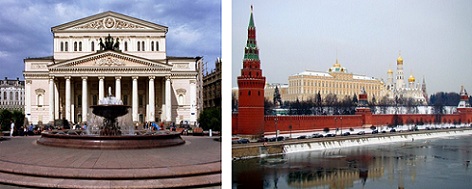 This walking tour is designed to give you the basic overview of the historical city center with its deep cultural heritage. It is perfect tour for first-timers in Moscow who want to get a general impression of the city. In the course of our tour we will see:
The Kremlin and the Red Square
Alexander Garden and Stalin's grave
Pashkov House, one of the most beautiful palaces in Moscow and home to Russian State Library
The Bolshoy Theater and Theatre Square. If you are interested in arts, let us know and we'll give you some advice on what's hot in Moscow
Lubyanka Square with KGB Historical Building
St Basil's Cathedral
Pushkin Museum and Volkhonka Street, home to numerous arts museums
Lenivka, the shortest street in Moscow
Central Universal Store (GUM)
Rate: $26 per person (with 12 persons maximum in group)
ZAMOSKVORECHIE THROUGH THE CENTURIES
(Duration - 2 hours)
Organized: upon request in April, during May - late September will run on Saturday from 1 pm, Sunday from 2 pm. Group meets outside Novokuznetskaya Metro station (Green Line).


The tour takes you from the Novokuznetskaya Metro station along Pyatnizkaya Street, the center of pre-Revolution Russian merchant life, to The Church of Christ the Savior, the center of post - Soviet Orthodox rebirth of Russia. Also, along the route we will stop at:
Bolotnaya (Swamp) Square, the scene of the recent anti election fraud demonstrations, and the much favored place for newlyweds to lock their lives forever
The House on the Embankment, whose monumental structure housed Soviet elite and Khrushev
The Boyar's House of Averkiy Kirillov, a perfect example of 17th century traditional Russian architecture with a beautiful church right beside it
The monument to Peter the Great, constructed in 2003 by N. Tseriteli, and much-hated by the locals for its incongruous size and style. We will talk about the controversy surrounding this Russian sculpture and culture in post - Soviet period here.
The Red October, the famous Soviet chocolate factory and a scene of intellectual and creative re-birth of modern Russia.
The tour will end at the Church of Christ the Savior, newly rebuilt in 2000, and a center of modern Orthodox life in Moscow
Rate: $28 per person (maximum group capacity 12 people)
EXCLUSIVE KRISTALL VODKA DISTILLERY TOUR
(Duration - 3 hours)
Kristall distillery normally is not open to public . Go To Russia Travel invites you on this exclusive English-language tour.


We will visit the legendary Kristall vodka distillery - producer of such famous brands of Russian vodka as Stolichnaya, Putinka and Yuri Dolgorukiy (rumored to be Gorbachev's favorite). The tour includes a visit to the distillery, the vodka museum and a tasting session of Kristall-produced vodka (10 types of vodka!) and traditional Russian hors d'oeuvres such as marinated pickles and tomatoes.
In the course of your exclusive tour you will discover different types of vodka and your personal preferences, and will learn how to drink your shot properly, getting its real taste.

Warning: If you are physically strong, you will be fine. However, if you are a petite female, you may get tipsy. Be aware of your capabilities and listen to your body when it tells you to stop.

Afterwards, with full understanding of your preferences you can buy some souvenir vodka at the distillery's gift shop.

Rate: $67 per person (with the minimum of 5 people per group).
*Please, book your tour at least 5 days in advance.





RUSSIAN CULINARY WORKSHOPS

(Duration - 3 hours)
Kristall distillery normally is not open to public . Go To Russia Travel invites you on this exclusive English-language tour.


Foodies will definitely enjoy this crush course on Russian cuisine. You will learn how to prepare traditional Russian dishes starting with borscht, hangover schi with pickled cabbage, Chicken Kiev, and many other favorites. Plan to get your hands dirty and be prepared to "make your cake and it eat too."
Menu is updated regularly and may be requested if you are booking a whole workshop for a group. We can also offer delicious Uzbek menu: samsa, plov and Eastern sweets!
Rate: $97 per person (includes all food items, cooking class by our professional chefs and a complimentary glass of traditional Russian medovukha (honey-based low-alcohol drink)!
AIR AND SPACE ADVENTURES IN THE GAGARIN ASTRONAUTS TRAINING CENTER (ZVEZDNIY GORODOK)
(Duration - 4 hours)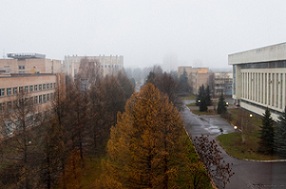 Go To Russia Travel invites you on an amazing tour of Gagarin Astronauts Training Centre (GATC). Located 25 km/15.5 miles outside Moscow in a truly beautiful area, the Center has unique facilities for astronauts' training, such as space simulators and stands, Hydrolab, Centrifuges, Flying laboratories and many others. You will see a full-size copy of the Mir space station, which found its rest in the deep waters of the Pacific ocean, an extraordinary zero-gravity simulation tank, a vast 23-meter-wide, a 12-meter-deep water pool, and other devices designed to simulate a space station with its units. You will also have a chance to explore the famous Soyuz spacecraft - a remembrance of the historic Russo-American Soyuz-Apollo coupling in times of the cold war.

Rate: $130 per person (minimum group of 10)

Optional: Lunch at the Center's cafeteria: $20 per person

This tour is upon request only and, in accordance with the GATC's rules, we have to provide them with the detailed list of tourists at least 7 days prior to the tour.



UNDERGROUND MOSCOW

(Duration - 2 hours (Metro only) or 4 hours (Metro + Stalin's Bunker)


Moscow Metropolitan System, mostly constructed during the Soviet period, is not only the largest but arguably the most efficient underground transit system in the world. It serves up to 8.9 mln customers daily, with trains coming every 2 minutes or less. However, efficiency is not the only thing Moscow Metro can boast. As one of the main architects of the Soviet metro once said: "They used to have palaces for kings, we are going to build palaces for the people!"
Go To Russia Travel invites on an amazing tour of the most inspiring metro stations representing different periods in the history of the Moscow Metro. We will visit five metro stops and explore how the State's preferences in architecture changed throughout the 20th century under different leaders and different historical circumstances.
On our metro tour you will:
See the actual place where the construction of the very first station began in 1932
Learn how many people hid in the metro from bomb attacks during WWII, and how many children were born in the metro
Visit the station where Party conferences were held during the WWII
Optional: Later, we will head down to one of Stalin's "Cold War" underground bunkers. The bunker was constructed for security purposes in the event of nuclear attacks. Today, it is preserved as a Cold War Museum and offers various interactive tours.
Rate: $75 per person for the full tour (Metro and Stalin's Bunker) $26 per person for Metro tour only
ARBAT STREET THROUGH THE EYES OF MOSCOVITES OF THE 20S AND 30S OF XX CENTURY
(Duration - 2 hours)


Follow us on an exciting historical journey back to the 20s and 30s - the dangerous times of the Civil War, Stalin's Repressions and, yet exciting period of new ideas which particularly manifested themselves in architecture and design. This walk will take us down Arbat street, one of only two pedestrian streets in Moscow. The street is a live monument to the "cultural revolution" of the 80s, occupied by bard singers, artists and souvenir shops, as well as home to often overlooked buildings, representing constructivism - an early Soviet manifestation of simplicity and structural design. We will also talk about Stalin's swift change from this simplicity to the grandeur of Stalin's Empire Style, and the reasons behind it. We will dive into little side-streets of Arbat and discover hidden jewels of constructivist or avant-garde architecture in Moscow.
Rate: $26 per person
MOSCOW AS WE KNOW IT
(Duration - 3 hours)
One of our favorite walking routes that we put a lot of heart and passion into while planning it.


We will start our walk at the first McDonald's built in post-Soviet Russia near Pushkinskaya Metro station and continue down through the little streets to our final destination - Arbat Street. We will see and talk about such places as:
Often called Bulgakov's Moscow - famous Patriarch's Ponds, a district that provided inspiration for acclaimed Russian writer's mysterious novel Master and Margarita
Countless short and long streets filled with Russian history. We will discover courtyards of Moscow buildings where we will see the harmonic coexistence of modern Russian street art and the magnificent XIX th century churches
Arbat, the street of artists and intelligentsia, is full of little cafes where you can get a filling meal after our walk.
Rate: $26 per person (with 12 persons maximum in group)
MOSCOW RIVER BOAT TOUR
(Duration - 1 hour)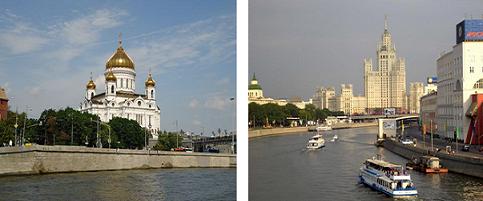 Route: along Vodootvodny Canal (Water bypass canal) through the Zamoskvorechye district, past the famous Bolotnaya Square, Peter the Great Monument, then to the Moscow River, past the Christ the Savior Cathedral , sky-scrappers on the Kotelenecheskaya Embankment, House of Music, and the Novospassky Monastery)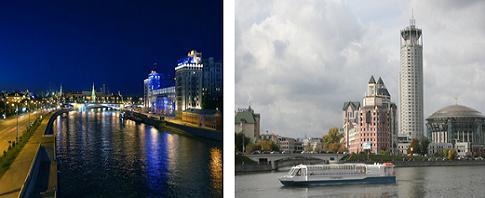 If you are in Moscow for a short time, the best, fastest and certainly most relaxing way to see the city is by boat. Go To Russia Travel offers Moscow River boat trips - a great opportunity to see many of the city's most interesting sights, without having to deal with massive traffic jams or overcrowded metro. You will surely enjoy a quiet and relaxing ride, slowly drifting across the beautiful Moscow river banks, seeing Moscow from a totally different perspective!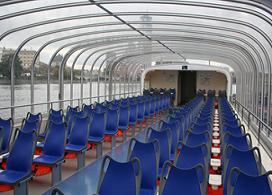 A new comfortable boat "Stolichny" is equipped with audio-guide available in five languages (English, German, French, Italian and Russian). The boat has a cafe where you can also enjoy drinks and snacks.
Rate: $20 per person
MOSCOW CITY TOURS AND EXCURSIONS
NUMBER OF GUESTS

CITY TOURS

1

2

3

4-5

6-7

8-9

City tour (3 hours)

$207

$107

$82

$65

$57

$48

City tour combined with:

-Novodevichy (New Maiden) Convent (4 hours)

$250

$133

$99

$79

$68

$63

Moscow at Night (3 hours)

$207

$107

$95

$73

$62

$53

The Kremlin

1

2

3

4-5

6-7

8-9

Grounds+Cathedrals (3 hours)

$229

$126

$104

$83

$72

$63

Territory+Cathedrals combined with:

Armory Chamber

$434

$213

$170

$143

$116

$104

Armory & Diamond Fund

$747

$378

$286

$219

$191

$143

Tours of City Museums

1

2

3

4-5

6-7

8-9

Armory Chamber

$231

$128

$106

$85

$74

$65

Armory & Diamond Fund (3 hours

$275

$163

$136

$114

$102

$93

Pushkin Museum of Fine Arts (Main Building + Walking Tour)

$155

$150

$97

$93

$73

$58

Tretyakov Gallery (3 Hours)

$213

$119

$98

$93

$73

$57

Yasnaya Polyana, Leo Tolstoy's Estate Museum (12 hours)

$823

$429

$341

$255

$180

$144

Cold War Museum "Bunker-42" on Taganka

$233

$150

$129

$114

$98

$89

Museum of the history of the World War II (4 hours)

$250

$133

$105

$85

$62

$51

Excursions

1

2

3

4-5

6-7

8-9

Kuskovo (palace, grounds, Grotto Pavilion, Italian Hut Pavilion or Dutch Hut Pavilion, Museum of Ceramics at the American Hot House, 4 hours)

$289

$1160

$132

$108

$83

$70

Kolomenskoe (grounds, Peter the Great's wooden cabin, 3 hours)

$197

$116

$92

$77

$59

$57

Volokolamsk Road 1941, One of the most important and bloody battles of the Second World War history was the Battle for Moscow in 1941-1942. (11 hours, lunch included)

$478

$256

$184

$181

$134

$109

Sergeyev Posad (Zagorsk) (grounds and churches of Holy Trinity Monastery, 6 hours)

$336

$194

$145

$110

$80

$68

Lenin's Gorki Estate Museum (6 hours)

$312

$163

$131

$105

$78

$65

Dostoyevsky in Moscow - All the first and most joyful impressions of Dostoevsky: loving family, walks around the city, visiting of churches, festivals, fairs, the first books, acquaintance with theater, are connected with Moscow. Tour includes New Bozhedomka, Mariinskaya Hospital Starosadsky street side (house of the Kumanins), the Hospital of Alexander the Third and the Museum-Apartment of Dostoevsky's family (4 hours)

$369

$189

$139

$108

$79

$59
All rates are per person. All tours are privately guided. All rates are based on using a car for 1-2 guests or minivan for 3-4 guests, passenger van for 5-9 guests. All rates include entrance fees and services of highly qualified licensed Go To Russia Travel guide (main European languages available).
---
Click here to inquire about this tour